Consumptive Use Mitigation Grant 2022 Awardees
The goal of this grant program is to implement innovative pilot projects that improve water availability and watershed resilience during critical low flow periods and droughts.
The Consumptive Use Mitigation Grant Program addresses the need for water availability and watershed resilience work throughout the basin and provides financial support to bring projects to life. More information on Consumptive Use Mitigation is available here.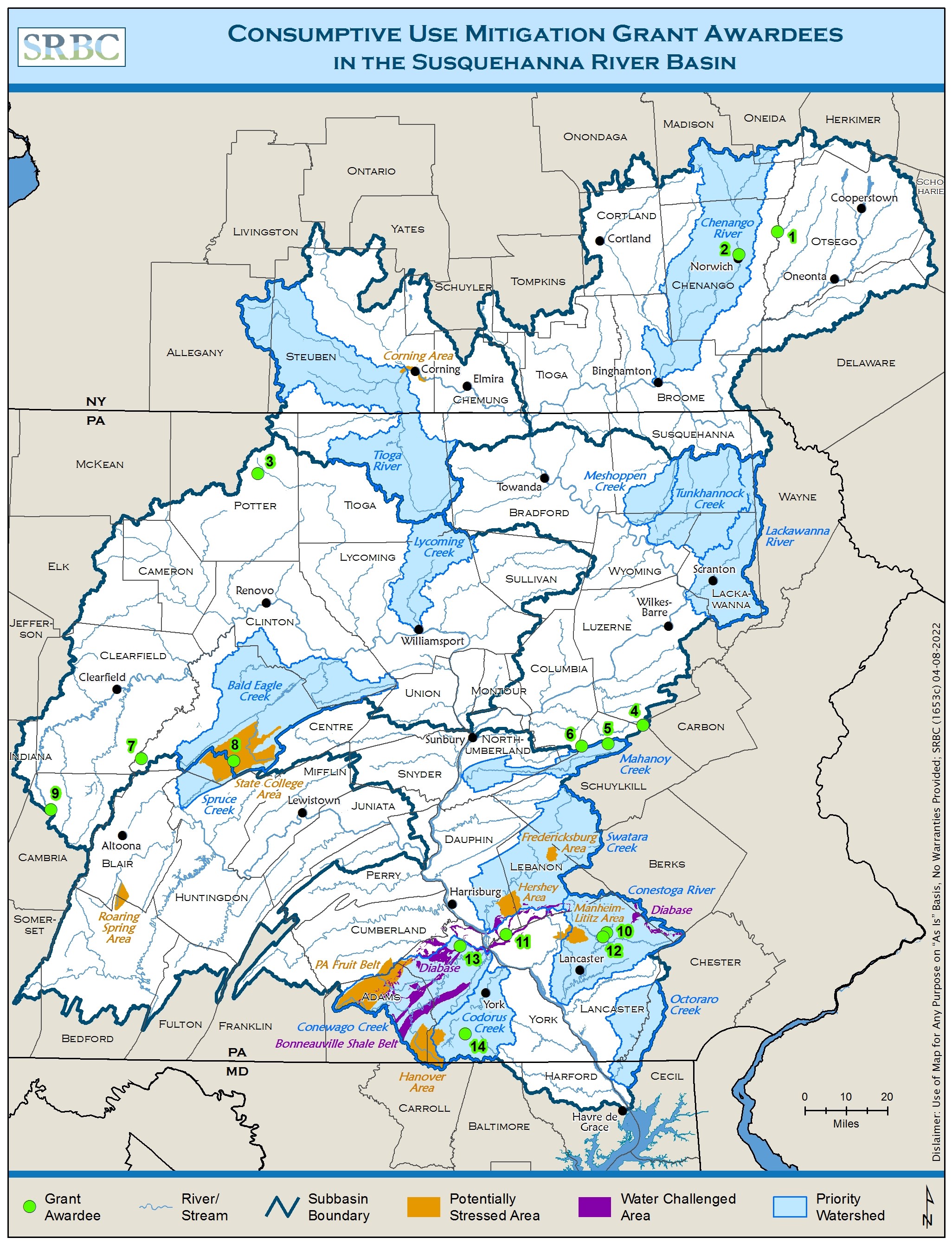 *See map for project locations
Podcast available
Grantee: Village of New Berlin
$185,000
The Village of New Berlin, located in Chenango County, New York, operates its own water system that includes three source wells, one 400,000-gallon storage tank and distribution mains. The original system was constructed in the early 1900s and although some improvements have been made, a majority of the system remains original construction. The Village intends to undertake major improvements in 2024/2025 to bring the system up to current standards by addressing water quality and operation issues. Plans include a Manganese Greensand Filter system for two wells, a new water treatment building for the third well, replacement of water mains, new metering and improvements to the storage tank. The Village will use the SRBC grant funding to replace failing water meters with drive-by, radio-read ultrasonic metering. The water meter upgrade and new mobile data collector system will allow the Village to accurately track and bill residents for their water usage and mitigate water loss from the system. You cannot manage what you do not measure! When the entire project is complete, the Village will be able to reduce operational costs, and provide adequate supplies of clean and reliable drinking water to its residents for the foreseeable future.
---
Chenango River Restoration Partnership
Grantee: Tioga County (NY) Soil & Water Conservation District and the Upper Susquehanna Coalition
$358,560
The Upper Susquehanna Coalition (USC) is a network of 22 Soil and Water Conservation Districts (SWCD) (18 in New York and four in Pennsylvania) that encompass the entire headwaters of the Susquehanna River Basin, with Tioga County SWCD acting as the main office. The USC addresses water quality and quantity issues through installation of Best Management Practices (BMPs), leading to habitat improvements within the basin that also supports USC's climate resiliency goals. The SRBC grant funding will be used for the Chenango River Restoration site, a property owned and protected by a local land trust that is located along the eastern bank of the Chenango River in the Town of Norwich, Chenango County, New York. Improvements include restoring 17.5 acres of wetlands, 5.5 acres of riparian forest buffer and 700 feet of actively eroding river bank. USC, along with other entities, also will actively promote education and outreach in association with the restoration activities including volunteer tree planting, stream restoration training in partnership with the U.S. Fish and Wildlife Service, and interpretative signage on the site.
---
Batterson Nine Mile Run Acquisition
Grantee: Western Pennsylvania Conservancy
$309,653
The Western Pennsylvania Conservancy (WPC) will use the funding to acquire a 137-acre property adjacent to Susquehannock State Forest in Ulysses Township, Potter County, Pennsylvania. The property is traversed by nearly 3,500 feet of Nine Mile Run, a tributary to Pine Creek. Nine Mile Run is classified by PFBC as a Class A Wild Trout Stream and is designated by PADEP as High Quality-Cold Water Fishes (HQ-CWF). The WPC will restore the floodplain, remove existing structures, establish a 150-foot forested riparian buffer, and eventually transfer the property to Pennsylvania Department of Conservation and Natural Resources (DCNR), Bureau of Forestry, for addition to the Susquehannock State Forest. The project will connect the property to existing conserved land, protect water quality, provide flood mitigation, and ensure public access for fishing, hunting, and other recreational activities.
---
Advanced Metering Infrastructure Upgrade
Grantee: Kline Township Municipal Authority
$92,101
The Kline Township Municipal Authority (KTMA) owns and operates a public water system that serves four communities in three counties in Pennsylvania: Kline Township and McAdoo Borough in Schuylkill County, the Village of Tresckow in Banks Township in Carbon County, and Beaver Brook in Hazle Township in Luzerne County. The water system has been plagued by undetected leaks in water mains and service lines, currently losing more than half the water pumped from its wells. KTMA will use the funding to purchase and install advanced metering infrastructure throughout the entire service area, as well as use satellite technology to scan for water-logged soils indicating underground system leaks. Upgrading to these "smart" meters and using cutting edge technology to promptly identify leaks will decrease KTMA's water losses and conserve water resources in the region.
Learn about Satellite Leak Detection in the January 23, 2023 episode of the River Currents Podcast
---
Water Conservation Upgrades Project
Grantee: Mahanoy Township Authority
$513,000
The Mahanoy Township Authority (MTA) owns and operates a small rural water system serving several Environmental Justice communities, including Mahanoy City Borough, Gilberton Borough, and portions of Mahanoy Township in Schuylkill County, Pennsylvania. The project will improve water supply dam operations by constructing new concrete weirs and improved access to closure valves. This work will provide MTA more control over the flows leaving the reservoirs, ensuring low flow protection for downstream aquatic resources and preventing water quality degradation during drought.
---
Water Conservation Improvements Project
Grantee: Municipal Authority of the Borough of Shenandoah (acquired by Aqua Pennsylvania, August 2023)
$286,200
Aqua Pennsylvania (formerly Municipal Authority of the Borough of Shenandoah) owns and operates a small rural water system that serves the Borough of Shenandoah (an Environmental Justice area) and portions of West Mahanoy Township and Butler Township in Schuylkill County, Pennsylvania. Aqua Pennsylvania will use the grant funding to install concrete weirs on streams downstream of each of its series of four interconnected reservoirs, and install new monitoring equipment along several raw water transmission mains to accurately measure the their water withdrawals. These improvements will allow the accurate measurement of conservation release flows, ensuring low flow protection for downstream aquatic resources and preventing water quality degradation during drought. Additionally, Aqua Pennsylvania will be able to compare raw water withdrawal to finished water output from the water filtration plant, and address any water loss issues.
---
Mountain Branch Watershed Groundwater Recharge Enhancement
Grantee: Houtzdale Municipal Authority
$252,000
To meet its current water supply demand, the Houtzdale Municipal Authority (HMA) draws surface and groundwater from two watersheds, Mountain Branch Watershed and Moshannon Creek Watershed. The small size and high-quality classification of streams in their source watersheds pose significant challenges in meeting their supply needs while also maintaining stream base flow, wetlands, and springs. In addition, pollutant impacts from historic coal mining threatens the groundwater quality within the vicinity of HMA's water supply wells. HMA will use the grant to fund a research and demonstration project to capture excess stormwater for enhanced groundwater recharge and storage in HMA's Mountain Branch wellfield. The project will provide new insights on how it might be possible to develop water projects within and near similar watersheds while also offering an innovative consumptive water mitigation option.
---
Best Practice Water Audits & Advanced Leakage Management in the Bald Eagle Creek Watershed
Grantee: RCAP Solutions, Inc.
$454,522
RCAP Solutions, Inc., and its partners Kunkel Water Efficiency Consulting and Cavanaugh & Associates, will use the funding to advance the knowledge and skills of up to 40 drinking water utilities in and adjacent to the Bald Eagle Creek Watershed, which is primarily situated in Centre County, Pennsylvania. The project will offer training and technical assistance based on the American Water Works Association (AWWA) best practice water auditing and leakage management methods. Up to nine utilities will receive a detailed evaluation of each utility's water audit, including inspection of production flowmeters, review of leakage control data and recommendations for system improvements. A select group of up to four systems will receive engineering guidance and direction to install equipment funded by the grant for advanced leakage and pressure management controls. An anticipated outcome is the creation of a water conservation program model that can be replicated in other watersheds in the basin.
Learn about Water Auditing & Leakage Management in the March 9, 2023 episode of the River Currents Podcast
---
Victor #10 Mine Discharge Project
Grantee: Cambria County Conservation District
$126,303
The Victor #10 mine discharge, located in West Carroll Township, Cambria County, Pennsylvania, pollutes the water quality of a local stream as a result of metal loadings from legacy coal mining impacts. The grant will fund Phase 1 of a new collection and pipeline system that will collect the discharge and convey it over 2,100 feet to an existing active treatment system (Clean Streams Foundation's 20 Mine Active Treatment Plant). At the treatment plant, the discharge will go through a series of ponds to remove the metals before being discharged into the stream as clean water.
---
Gross Run Stream Restoration Construction
Grantee: Ephrata Borough
$500,000
Ephrata Borough plans to use the funding to restore a 0.49-square-mile area drained by an unnamed tributary to Cocalico Creek, which is locally known as "Gross Run." The project will stabilize the stream channel and construct floodplain benches on both sides of the channel for approximately 4,300 linear feet that will slow flood velocities and dissipate energy. The project will also address degraded habitat by restoring 1.3 acres of wetland and 5 acres of riparian buffer. The improvements are anticipated to lower stream temperature, mitigate flooding, and provide sediment and nutrient reductions including the following: 314,410 pounds of sediment, 358 pounds of nitrogen, and 165 pounds of phosphorus, annually. The watershed restoration will also address source water protection for two of Ephrata Area Joint Authority's public water supply wells that are located within the Gross Run drainage area.
---
Conewago Creek Stream Restoration
Grantee: Londonderry Township
$400,000
Conewago Creek Watershed, a 53-square-mile watershed in southcentral Pennsylvania, is impaired by excess sediment and nutrients that enter the stream as runoff primarily from agricultural activities. The grant will fund Phase 2 of a larger three-phase restoration plan. Phase 2 extends approximately one mile along the creek, adjacent to the Conewago Recreation Trail, in Conewago and Londonderry Townships, Dauphin County, and Mount Joy Township, Lancaster County. The project will result in 3,213 linear feet of stream restoration including instream velocity reduction devices, streambank stabilization and/or channel creation, 5.2 acres of wetland creation and floodplain reconnection, new riparian forest buffers, and 52,619 cubic yards of legacy sediment removal. Additionally, the project will post educational signage along the trail to inform the public about the importance of protecting water quality. The restoration will create a stream and wetland complex with multiple benefits, including habitat restoration, increased flood storage, reduced sediment and nutrient loading, improved biogeochemical processing of pollutants and groundwater recharge.
---
Roland Park Water Resources Restoration
Grantee: Borough of Akron
$748,770.71
The Borough of Akron (Akron) owns and operates a water system that serves the Borough of Akron and portions of Ephrata Township and East Earl Township in Lancaster County, Pennsylvania. Akron's four water supply wells and a spring are located within Roland Park, an 85-acre public park within the impaired headwaters of the Cocalico Creek. The grant will be used for stormwater management, drainage improvements and stream restoration as a means of increasing groundwater recharge, protecting the water supply and improving water quality within the source water protection area. Project details involve the design, permitting and construction for the restoration of 1,440 linear feet of the unnamed tributary of the Cocalico Creek, 6,330 square feet of bio-retention/rain gardens, 3,400 square feet of wetlands, 1,165 linear feet of feeder streams and the stabilization of two stormwater outlet swales. These improvements will provide the following estimated pollution reductions: 116,921 pounds of sediment, 195 pounds of nitrogen, and 177 pounds of phosphorus, annually.
---
Bennett Run Stream and Wetland Restoration Construction Project
Grantee: York County Conservation District
$861,591
The York County Conservation District (YCCD) and its contractor, Ecotone, LLC, are undertaking a stream and wetland restoration project on a targeted reach of Bennett Run located in Newberry Township, Pennsylvania. In continuation of the awarded 2021 Growing Greener grant for design and permitting, YCCD will use SRBC's funding to take the project from design to construction, including 1.7 acres of wetland enhancement, 1,815 linear feet of stream restoration, a 0.54-acre stream-wetland complex, water quality in the Conewago Creek Watershed, 1.66 acres of wetland creation, a 1.05-acre shallow water wetland and 4.2 acres of riparian reforestation. Once implemented, this restoration project will reduce bank erosion, improve floodplain connection and improve providing estimated reductions of 238,509.9 pounds of sediment, 1,523.6 pounds of nitrogen, and 534.2 pounds of phosphorus, annually.
---
Terra Farms Project
Grantee: Watershed Alliance of York
$1,500,000
The Watershed Alliance of York (WAY) and its contractor, Working Lands Investment Partners, LLC (Working Lands), will work with three contiguous property owners in undertaking a stream restoration project on a targeted reach of Buffalo Valley Run, North Codorus Township, York County, Pennsylvania. Buffalo Valley Run is part of the South Branch of the Codorus Creek Watershed, the highest priority watershed for restoration within York County. WAY will use SRBC's funding to implement Best Management Practices (BMPs) for groundwater storage and stream restoration, including construction of 2.3 acres of recharge areas and installation of a number of stream stabilization techniques that will dissipate streamflow energy and reduce erosion, including 4,000 feet of bankfull benches, instream grade control structures, and 1,000 feet of armored protection at meander bends. In addition, the project will remove 4,700 cubic yards of legacy sediment to restore the floodplain, establish pocket wetlands in the restored overbank area, and add 5 to 7 acres of new riparian buffer. Once implemented, this restoration project will reduce bank erosion, improve floodplain connection and improve water quality in the Codorus Creek Watershed providing estimated reductions of 350,000 pounds of sediment, 35,000 pounds of phosphorus and 12,000 pounds of nitrogen, annually. Terra Farms, at 7,851 linear feet of improvements, is an extremely large project; that large size will significantly increase the effectiveness and the resiliency of the watershed restoration.