Drought
December 1, 2023: Drought Watch Remains for 13 Counties, Clinton County moved to Drought Warning
October 20, 2023: Six Counties Return to Normal and 15 Counties Remain in Drought Watch or Drought Warning
September 22, 2023: Drought Watch Remains for 19 Counties, York County Moved to Drought Warning
August 24, 2023: Drought Watch Remains for 20 Counties, Lifted for 47 Counties
June 15, 2023: DEP Declares Statewide Drought Watch, Recommends Voluntary Water Conservation
April 30, 2023: Three Regions of Maryland in Drought Watch Condition
Drought is a principal cause of water availability shortages in the Susquehanna River Basin. The Basin is susceptible to extended drought due to varied topography, geology, and climatic influences. Shortly before the formation of the Commission, the extended drought of the mid-1960s set the benchmark for drought planning. Many drought operation plans are still based on recurrence of 1964 conditions. Following adoption of the Susquehanna River Basin Compact, severe droughts occurred in 1980-81, 1985, 1991-92, 1995, 1998-99, 2001-03, and 2016.
Drought Conditions
Drought Indicators
Public Water Supply Problems
---
Drought Management Authority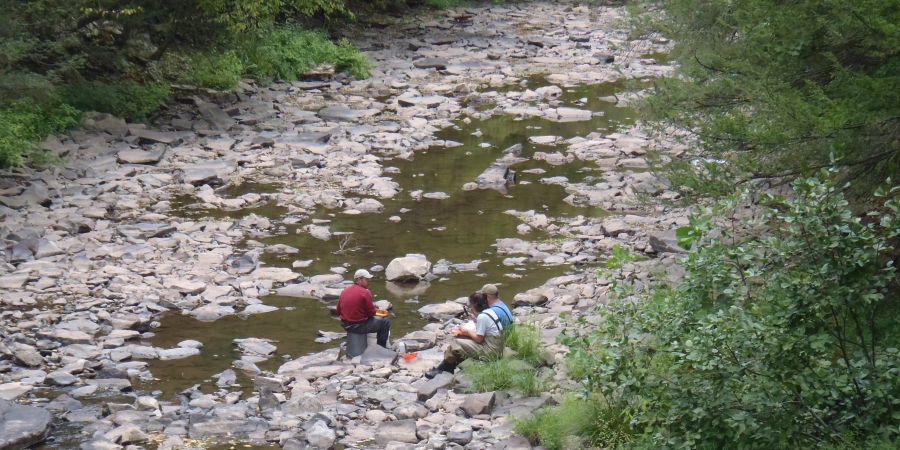 Low Flow Sampling on Great Trough Creek in Huntingdon County, Pa.
The Susquehanna River Basin Compact outlines the Commission's role in managing drought emergencies in the Basin. This includes delineating areas of water supply shortage and declaring drought emergencies. During emergencies, the Commission can direct adjustments to water allocations, diversions, and releases to mitigate drought impacts.
Drought Planning & Mitigation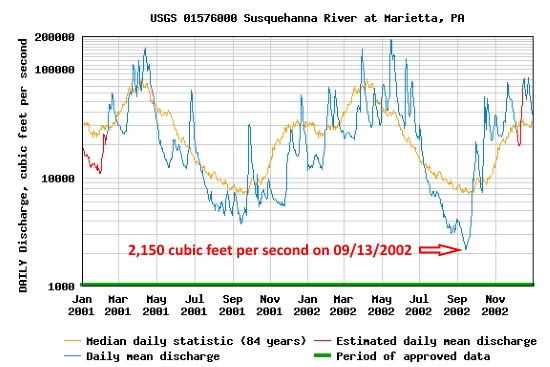 Significant Low Flows on the Susquehanna River at Marietta, Pennsylvania During 2002 Drought
The Susquehanna River Basin Comprehensive Plan contains a goal to mitigate drought impacts through coordination and use of drought emergency powers. The plan also includes drought coordination as an area of special interest, outlining current management activities and future directions. These include ensuring sustainable water allocations, requiring passby flows and consumptive use mitigation, monitoring drought conditions, and coordinating federal and state agency response actions.
Drought Monitoring & Coordination
The Susquehanna River Basin Drought Coordination Plan describes the Commission's drought management authority, explains drought watch, warning, and emergency stages, specifies monitoring data and criteria for determining drought stage, and outlines drought response actions by the Commission and partner agencies. The plan details methodologies for monitoring hydrologic variables and approaches for relating and combining data to determine the onset, severity, and conclusion of drought conditions in the Basin.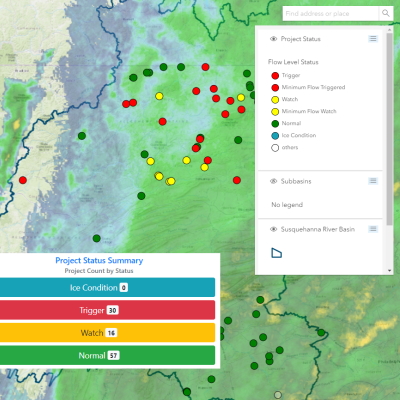 Drought Stages & Response Actions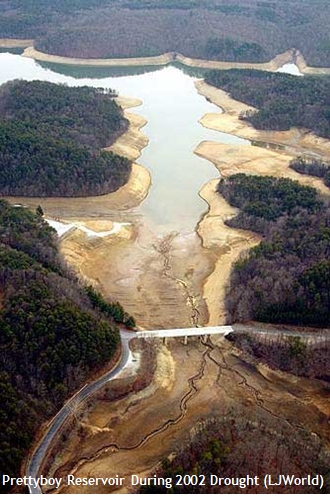 Drought Watch - This action is intended to give advanced notice of a developing drought event. At this stage, the general public can prepare, and public water purveyors and industries can update and begin to implement individual drought contingency plans. Public water purveyors should urge customers to voluntarily reduce water usage by 5 to 10 percent, and they should monitor existing supplies so that they are stretched to cover an extended drought.
Drought Warning - This stage is a notice of impending and imminent severe drought conditions. A warning declaration includes a stepped-up public awareness program calling for increased voluntary conservation to achieve an overall 10 to 15 percent reduction in water demands, a request for public water purveyors and industries to continue to implement local drought contingency plans, and a notice for federal, state, and local water resources agencies to prepare for emergency response measures.
Drought Emergency - Drought emergency is the most severe stage. Under a drought emergency declaration, the Commission may, if warranted, implement mandatory restrictions on nonessential water uses through signatory enforcement agencies. The objective of the restrictions on nonessential water uses is to achieve a 15 to 25 percent reduction in overall water demands, most of which are consumptive water uses. All available water resources and emergency equipment should be used to respond to actual emergency conditions, avoid depleting water sources, protect the public health and safety, and support essential and high priority uses. The Commission will coordinate operations of the available water storage in federal, state, and key local reservoir projects within the Basin. It also may be necessary for the Commission to modify or temporarily suspend water withdrawal and consumptive water use approvals.