Executive Director's Message
Fall 2023: News & Views from the Susquehanna River Basin Commission!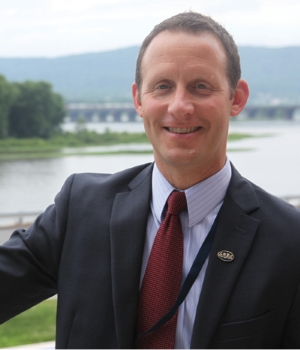 I've been asked why the Susquehanna River Basin Compact between the states was for a term of 100 years. Not only did that reflect an enduring commitment among the partners and the federal government, but it acknowledged that comprehensive management of water resources, not to mention restoration projects, are, for better or worse, long-term endeavors. That certainly requires patience for those eager to see progress, but also requires us to periodically check to ensure that progress is occurring. I hold myself as Executive Director to that same standard – can I say that progress is happening under my oversight?
With last month being the 10-year mark since my appointment to the position, I assessed what the dedicated team at SRBC has accomplished since 2013, and I can confidently say we've moved the basin's resources in a positive direction:
The basin has more sustainable water supplies because we developed a water use availability index, promoted the successful implementation of more water-efficient industrial processes, and established a water use mitigation plan and grant program that facilitates the completion of beneficial water resource projects;
the water quality of our streams is getting the attention it needs because we established a cutting-edge real-time monitoring network, invested resources in pursuit of legacy coal mining restoration projects, and provided strong support to local Chesapeake Bay restoration efforts;
our communities are more resilient to flooding because we partnered in development of a modern warning and response tool, refined techniques for monitoring of local flood conditions, and advocated for advanced forecasting capabilities;
water users are better protected during times of drought because we continually monitor regulated projects, enacting operational provisions that mitigate harmful effects to other users and the aquatic ecosystem;
planning efforts are enhanced because we issued an updated Comprehensive Plan with stakeholder input, restructured our annual Water Resources Program, and created a process for assessing and projecting water supply demands on a county-wide basis;
both the public and the Commission benefit from more efficient regulatory processes because we created general permits, streamlined regulations, and offered technical and financial assistance to water suppliers undergoing permitting; and
access and transparency regarding Commission activities are improved through reorganization of data and information on our website, the addition of remote/virtual connections to our public hearings and business meetings, and enhanced efforts to reach out to lesser served communities.
These achievements are only successful mile markers on the continuing road to success and our efforts must continue. In this issue you'll get a glimpse at some of those efforts, as I invite your continued interest in our journey.
Best regards,
Andrew D. Dehoff, P.E.
Executive Director