Chesapeake Bay Watershed Region Freshwater Mussel Partnership
The Chesapeake Bay Watershed Region Freshwater Mussel Partnership is a voluntary affiliation of stakeholders drawn by our interest in freshwater mussels to:
Advance and promote Conservation & Restoration; and,
Evaluate Water Quality best management practices (BMPs) to lessen excess nutrients and sediment in tributaries to the Bay.
Interest in freshwater mussels throughout the Chesapeake Bay Watershed is growing and for good reasons, such as:
Freshwater mussels are among North America's and the Bay Region's most endangered group of organisms
Freshwater mussels have unique life strategies linked to individual fish species
Much like benthic macroinvertebrates, freshwater mussels are indicators of existing water quality conditions in a stream
As they feed, freshwater mussels transfer suspended matter from the water column to the stream bed
Freshwater mussels are ecosystem engineers, capable of modifying aquatic habitat to make conditions more suitable for themselves and other organisms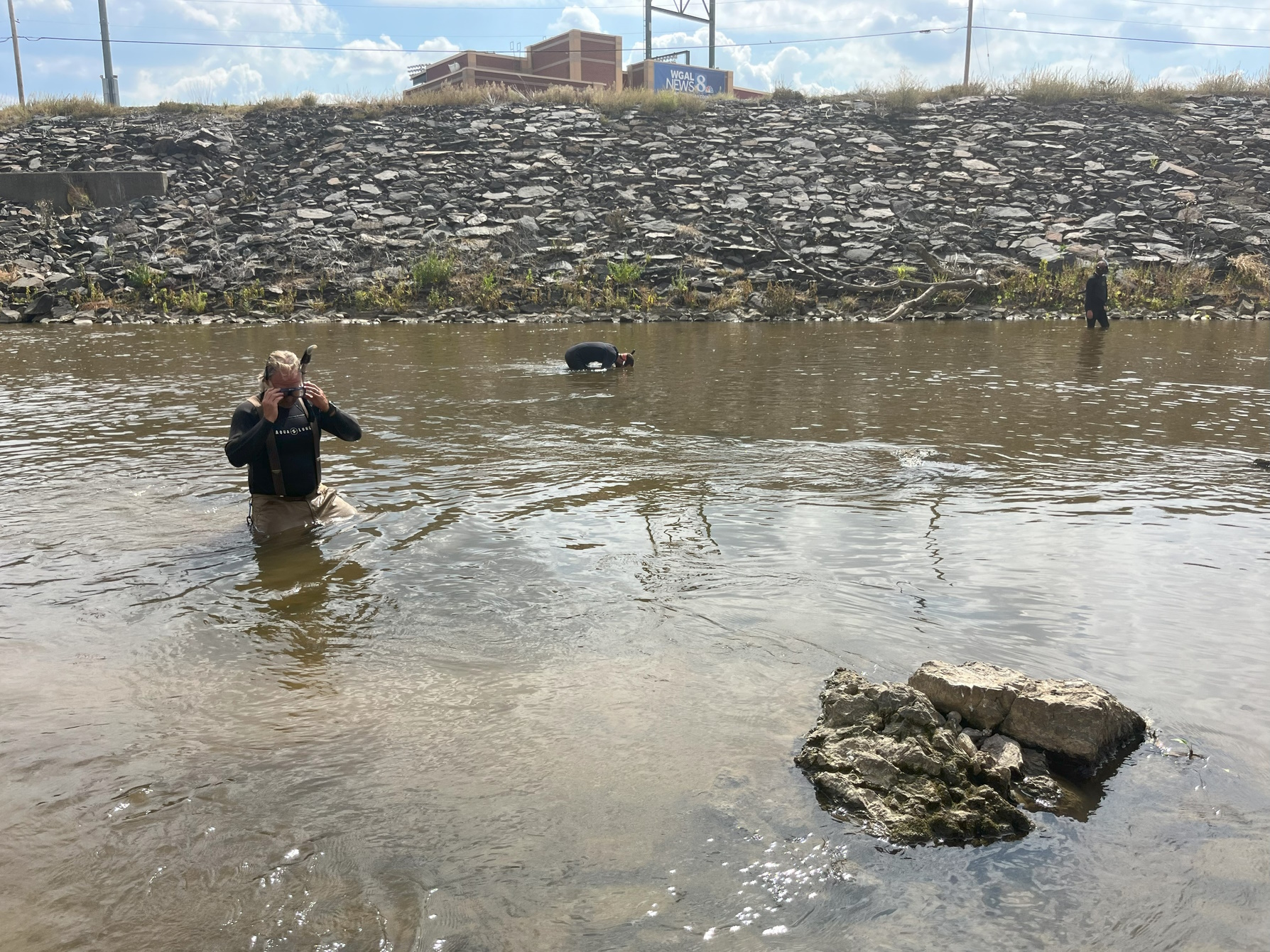 Sampling for freshwater mussels in Codorus Creek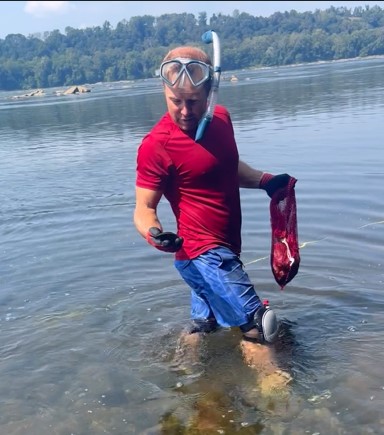 Sampling for freshwater mussels in Susquehanna River below Conowingo Dam
Meetings & Events Calendar
NFWF Announcement
11/13/23
Congratulations to 4 mussel-related projects awarded as 2023 recipients of the Chesapeake Bay Stewardship Fund Watershed Investments for Landscape Defense (WILD) Grants!
Partnership Steering Committee
11/14/23
1-2 pm (invitation only)
Partnership Virtual Meeting
12/5/23
1-2:30 pm (all are welcome)
Click Here on 12/5/23 to Join Meeting Via Zoom
Partnership Steering Committee Meeting
1/26/24
8-9 am (invitation only)
Partnership Steering Committee Meeting 2024 Schedule:
4th Friday of every month
8-9 am (invitation only)
Workshop Announcement
March 4-7, 2024: Auburn, Alabama
Freshwater Mollusk Conservation Society 2024 Workshop: Environmental Tolerance and Ecophysiology Techniques: click here for more information
Archives
May Partnership Meeting
May 25, 2023
---
Get Involved!
Connect with the Partnership
Benefits include: join our mailing list and stay informed about Partnership initiatives, support an Action Team, meet and network with colleagues, attend our annual Symposium
About Us
The Chesapeake Bay Watershed Region Freshwater Mussel Partnership evolved mainly from the Chesapeake Bay Program's Science & Technical Advisory Committee workshop (March 5-6, 2020): Incorporating Freshwater Mussels into the Chesapeake Bay Restoration Efforts and the National Fish & Wildlife Foundation and state of Maryland's workshop (April 13, 2022): Broaden and Enhance Regional Freshwater Mussel Partnerships in the Chesapeake Bay.
In 2023, staff from the Susquehanna River Basin Commission transitioned to the role of coordinators for the Regional Freshwater Mussel Partnership. As coordinators, SRBC staff: facilitate communication among the Partnership members, Action Teams, and Steering Committees and with pertinent elements of the Chesapeake Bay Program; schedule Partnership Steering Committee meetings; coordinate an Annual Symposium; and manage resources and information for this web page.
Contact
For more information or questions, please email:
Monitoring & Protection Program
Susquehanna River Basin Commission
4423 North Front Street, Harrisburg, PA 17110
717-238-0423 X 1115